Sharing God's Love
Re-imagining what a church might be
St Augustine's with St Luke's, Bromley Common

Click here to join us for live online church at 10am every Sunday
Click here for our Youtube channel and here for our Facebook group
Click here to see what we are doing to help deliver hampers to families in need this Christmas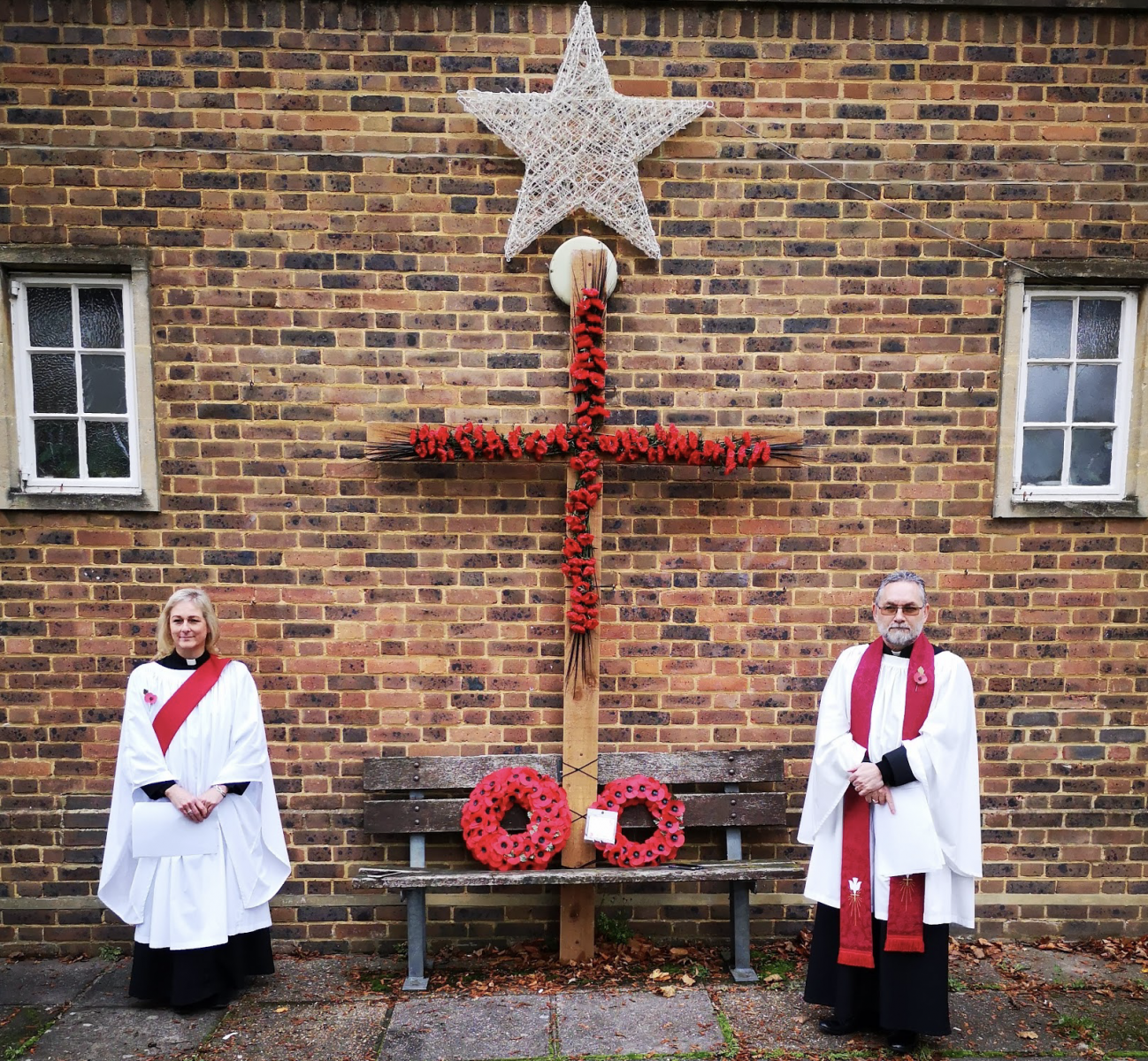 The Vicar and Curate in an act of remembrance outside the church on 11th November. Passers-by stopped to pay their respects.
The Parish of St Augustine's with St Luke's
Sharing God's Love
Welcome to our latest weekly e-newsletter

20th November 2020
Weekly Message
A message from Rachel our Curate
To my family in Christ,
Last Sunday we looked at the story of the talents and considered how important it is to be faithful with what God has given us. Following on from this we might consider that when we faithfully use and develop our gifts, we bring something of the kingdom of heaven into others' lives. Equally, there are consequences in not using the gifts from God, namely that someone, somewhere misses out.
Throughout this week it has really been on my heart to encourage you to notice your talents, because no-one else has the gifts that you have. This is how the church thrives - when we all pool our God-given resources together.
And so I want to thank you for all that you are doing to keep this alternative 'lockdown form' of church going. Your amazing efforts are not going unnoticed: outreach plans are being made for Christmas which is fast approaching, people are kindly delivering essential communications, numerous social and spiritual zoom meetings are occurring and many of you helped collect the 150 Food bank Christmas hampers, which we will deliver to those in need on 19th December. We simply cannot do 'church' without you and your wonderful commitment.
Prayer
Draw your Church together, O God,
into one great company of disciples,
together following our Lord Jesus Christ
into every walk of life,
together serving him in his mission to the world,
and together witnessing to his love
wherever we serve.
Amen

God bless your week,
Revd Rachel Winn, Curate
This Sunday - 22nd November - Christ the King
Join us as we meet to worship together on Sunday morning at 10.00am
online, with the Zoom room opening from 9.45am, by clicking here.
If this link doesn't work or you wish to join via telephone, instructions are here.
After the service, we'll have the opportunity to break into groups for fellowship.
The Zoom Service Sheet can be found here.
Reading:
Bible Reading: Matthew 25: 31-end
Collect:
God the Father,
help us to hear the call of Christ the King
and to follow in his service
whose kingdom has no end
for he reigns with you and the Holy Spirit,
one God, one glory.
Amen
Wednesday 11.30am-12pm
Midweek prayer and reflection on Zoom here.

Sunday 9am
Due to Lockdown, the Communion at St Augustine's Church cannot take place.

Sunday 10am
Service on Zoom.

Tuesday 11am to Noon
Coffee and Chat on Zoom - click here
If this link doesn't work or you wish to join via telephone, instructions are here.
If your zoom link doesn't work or you wish to join via telephone, instructions are here.
Friday 25th December
10.00 am Christmas Family Service?
2.00 pm Join Family and Friends for Christmas Dinner?

Let us hope so, but we don't know yet!!
Connect Online
As we look ahead to the feast of Christ the King and the approach of Advent and Christmas, this week's diocese reflection comes from the Rev Helen Burn, Vicar of St Justus, Rochester and Evangelism Team Lead, who considers the power of telling stories about our own faith at this time, bringing 'comfort and joy'.
Advent Trail - Coming to the streets near you
This is an opportunity for all ages to walk around the roads between St Luke's and St Augustine's and spot one of the twenty-four numbered Advent Trail boards, each with a text relating to the Christmas story. Advent Trail leaflets will be available to download from Friday 27th November via next week's newsletter and our website. This is a community outreach event so do involve your friends and neighbours.
Keep us informed
Although these are difficult times, if you have any notices, news, events etc which may be suitable for this newsletter, do let us know by emailing office@st-augustines.org.uk.
Charity and Community Updates
Bromley Foodbank - 12 days of Christmas
Please find a poster here giving details of the needs of the foodbank for Christmas hampers. If you could donate your Christmas items via the black box outside the vicarage by 25th November that would be most helpful. Christmas hampers are already being packed and it takes time to do this and distribute them to the clients
Though we are not able to meet in person at present, we certainly don't want anyone to feel isolated or alone. If you know anyone who might appreciate a call, do let us know by contacting the Vicar or emailing the Office.

We also have a prayer team and you can send in prayer requests for yourself or others.

Lastly, if you know of someone who would like to receive our weekly newsletter, then forward this email to them and ask them to sign up here.
Love, prayers and the peace of the Lord Jesus be with you always.
The Office is now closed until further notice.

If you need assistance, you can contact Rev Steve Spencer on 020 8467 1351

Please send any suggestions or comments on this newsletter to
office@st-augustines.org.uk


You can find further information on our Facebook Page
Also read our monthly magazine Roundabout. The November issue is now available by clicking here

If you wish to donate our bank details are 20-14-33 20772100.
Payee Account Name
THE PCC OF THE ECCLESIASTICAL PARISH OF ST AUGUSTINES WITH ST LUKES BROMLEY


Alternatively you can give via credit or debit card on our Online Web Page
Copyright © 2020 St Augustine's with St Luke's, All rights reserved.
SAFEGUARDING
As a church we take our safeguarding responsibilities very seriously and we are committed to ensuring our church and hall buildings are safe places for all. If you have any concerns about safeguarding you can contact our Parish Safeguarding Officer, Mrs Helen Scothern - tel: 07909824099
This website has a section entitled Safeguarding, click here to see it.